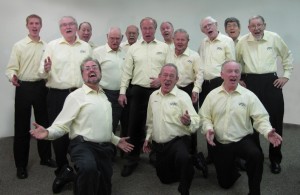 "Harmony Hi-Way"
On March 2nd the Olympic Peninsula Men's Chorus will be presenting 2 concerts at Sequim High School Auditorium, a 2pm matinee and a 7:07pm evening show.  Tickets for both shows are $12 and all seats are general admission.
"Harmony Hi-Way" follows the chorus as they tour the United States starting in Coney Island and traveling to San Francisco.  Along the way they stop to perform songs related to where they might be on the map like "Coney Island Baby", "Shenandoah", and "San Francisco Bay Blues", among others.
The bus the group has hired has some very special qualities. For example, the chorus will travel across the country in around 45 minutes including the stops.  The bus also has a very dramatic effect on the two guys who are sharing the driving.  Something that you will need to come and see for yourself.
OPMC's guests are the Grand Olympics Chorus (GOC) of Sweet Adelines International, which is performing on the men's show for the first time in a number of years; Aspire! a great local women's quartet; and the quartet "No Batteries Required" will also be featured on the show.
OPMC's special guests are "Madison Park", whose members come from the Puget Sound area and Canada. "Madison Park" has been active in Barbershop Harmony Society competitions and in 2012 they were named the Division II Champions and were 2nd Place Medalists in the Evergreen District, which includes Montana, Idaho, Oregon, Washington, Alaska, Alberta, and British Columbia. Their 2nd place medal qualified them to compete at the Barbershop Harmony Society International event.
Tickets can be purchased from any OPMC member, or GOC member, and Pacific Mist Books in Sequim, Port Book and News and the Peninsula Daily News in Port Angeles. You can contact the chorus by calling 360 681-7761 and find them on Facebook.