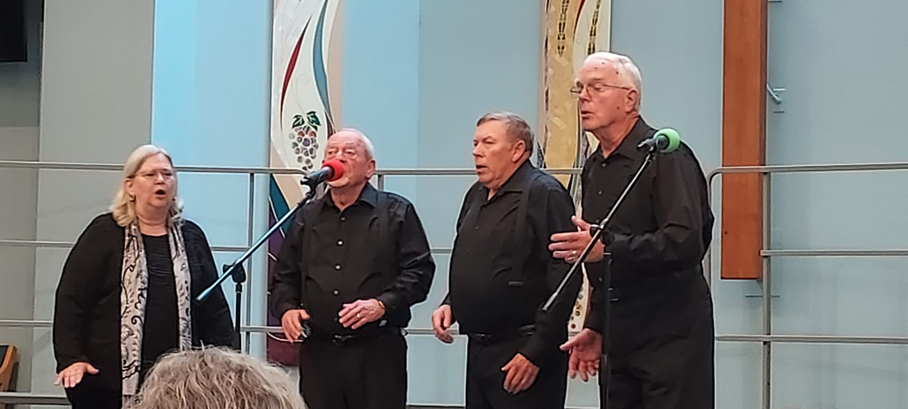 Jim Davis: Lead — Started singing Barbershop in 8th grade, 1970 through graduation in 1974. Life got in the way until 1995 when I got back into Barbershop in Carson City, Nevada. Since then, I have Directed or sang in 5 different chapters and one other quartet. I've been with Juan de Fuca Harmony for 12 years now for a total of 32 years. I started singing with JaBBeR 2 years ago.
Robert Hutchings: Bass — Started singing with the radio then joined the church choir in 2009, then I got invited to a Barbershop chapter meeting with a friend in 2012. That was all it took, I started singing Barbershop and joined the group in May of 2012 and have been singing with them every sense and I thoroughly enjoy it, for 11 years now. I started singing with JaBBeR quartet 3 years ago.
Robert Redford: Baritone — Began singing in an organized chorus in 1959 my 8th grade year and sang through my Junior high school and high school years. When I joined the US Navy I sang in the Great Lakes Training Center, Blue Jackets Choir throughout boot camp and "A" School. Since then, my singing has been limited to an occasional church choir and the shower. After retiring from the Navy, I moved to Eugene, Oregon and joined the Eugene Gleemen for over 15 years. After I moved to Sequim, I joined the present-day Juan de Fuca Harmony seven years ago and have been singing with the quartet JaBBeR for three years.
RayDelle Kistler: Tenor — I love singing harmony! My Mom sang Alto in church and my Dad was a Tenor in the Elks Glee Club. As a kid, I remember singing with Mitch Miller on TV and singing with my dad. Now that I have time, after raising my family, I'm happy to be singing with Juan de Fuca Harmony and JaBBeR.